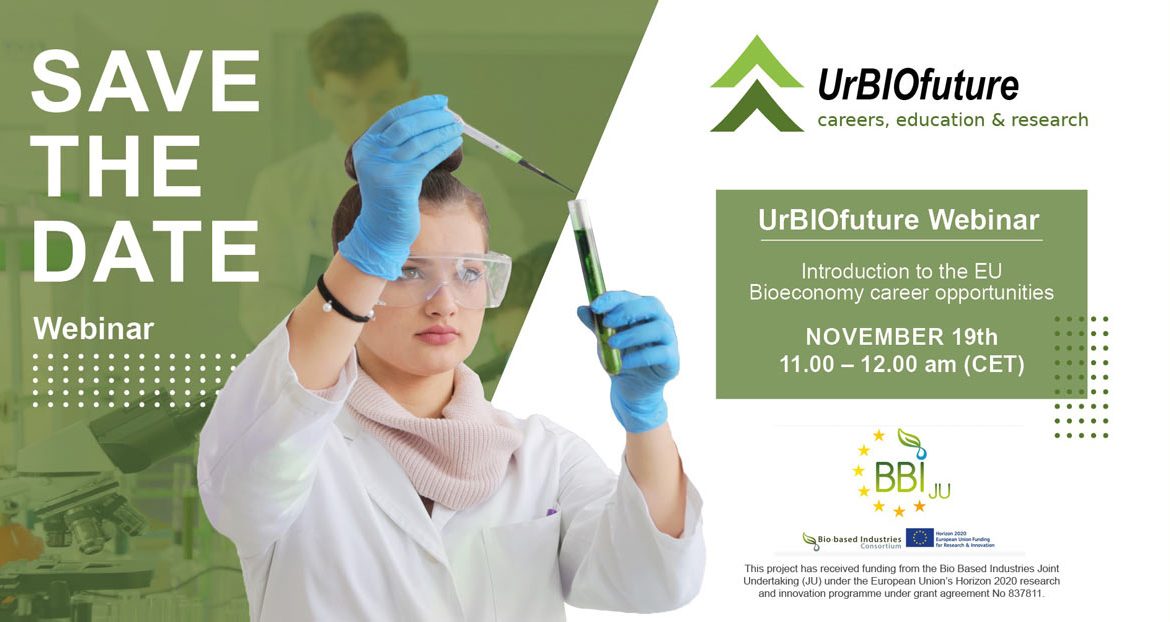 Upcoming UrBIOfuture Webinar
UrBIOfuture is holding its first webinar: "Introduction to the EU Bioeconomy career opportunities" on November 19th, at 11.00 – 12.00 am.
The session, coordinated by Sustainable Innovations Europe, will count with the participation of several companies related to the bioeconomy sector, such as provide an introduction to the Bioeconomy, it's main impact in Europe, and the jobs foresight.
Agenda*
11 :00 Welcome and Introduction by Sustainable Innovations Europe
11 :05 The bioeconomy in Europe and the BBI JU by VITO
11 :15 Introduction to the UrBIOfuture project by the Autonomous University of Barcelona
11 :25 Existing needs and lacks in professional profiles and skills in the bio-based industry by Agro Business Park
11 :35 Comprehensive map of programmes addressing curricula in the bio-based sector by the Autonomous University of Barcelona
11 : 45 Creating a pilot ecosystem as a training platform by VTT
11 : 50 The "UrBIOfuture experience" by Corporación Tecnológica de Andalucía
The webinar is free upon registration, so don't miss this chance and enlist yourself now in this link:
https://attendee.gototraining.com/r/4200219483178212865
*The agenda is subject to changes.